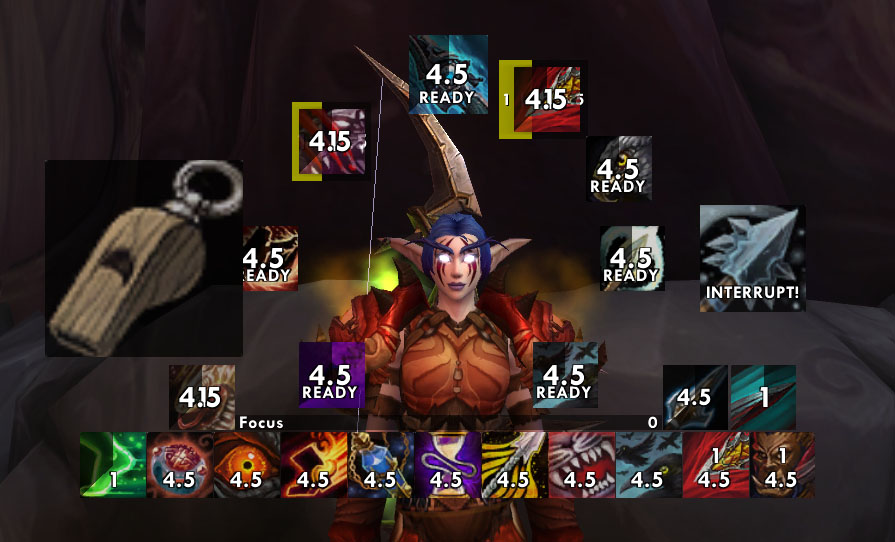 BATTLE FOR AZEROTH UPDATE 2018/07/15 – See the Battle for Azeroth and 8.0 version: WeakAuras 2: Exports for Hunters – Battle for Azeroth and Patch 8.0
---
WeakAuras for hunters updated for patch 7.3!
They will only load on hunters and in the appropriate specs.
These auras are localized and will work for all languages!
Extra media used through SharedMedia:

Font: Tw Cent MT Bold (Added via MyMedia, Read "INSTRUCTIONS for MyMedia.txt")
Bar texture: BantoBar
---
---
How To
---
Video
---
Beast Mastery Abilities
See Focus Use for  Cobra Shot auras.
---
Marksman Abilities
See Focus Use for Arcane Shot, Aimed Shot, and Lock and Load auras.
---
Survival Abilities
See Focus Use for Raptor Strike, Way of the Mok'Nathal, and Serpent Sting tracking.
---
Focus Use
Marksmen – I HIGHLY RECOMMEND also using the Vulnerable tracker by Asakawa.
---
Warnings
---
Active Buffs
These are tracking auras for procs that give you buffs or timers for abilities that you activate.
They are shifted to the right because they pair up with WeakAuras 2: Exports for All Classes and Engineers – Legion.
---
Other WeakAuras