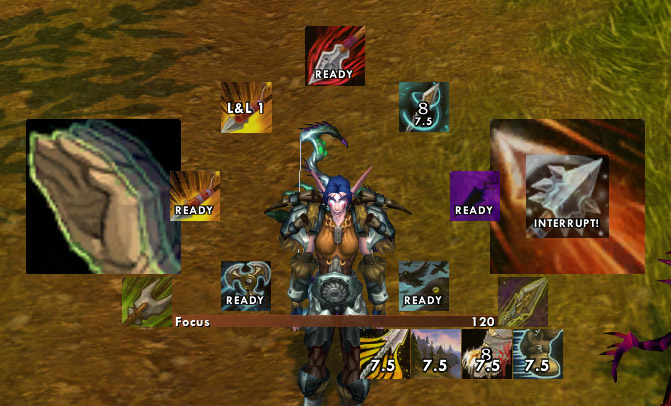 LEGION UPDATE 2016/05/13 – See the Legion and 7.0 version: WeakAuras 2: Exports for Hunters – Legion & 7.0
---
Here are my updated auras for hunters for patch 6.0, 6.1, 6.2, and Warlords of Draenor.
Each set includes auras for Beast Mastery, Marksman, and Survival and most hunter talents including level 100.
They will only load on hunters and in the appropriate specs.
They are all disabled while in vehicles.
Extra media used through SharedMedia:

Font: Tw Cent MT Bold (Added via MyMedia, Read "INSTRUCTIONS for MyMedia.txt")
Bar texture: BantoBar
How To
Video
Abilities
Misdirection
Kill Shot (Beast Mastery: Spell ID 53351)
Kill Shot (Marksman: Spell ID 157708)
Bestial Wrath (Beast Mastery)
Kill Command (Beast Mastery)
Focus Fire (Beast Mastery)
Rapid Fire (Marksman)
Chimera Shot (Marksman)
Black Arrow (Survival)
Explosive Shot (Survival)
Lock and Load (Survival)
Abilities – Talents – Level 75
Stampede
A Murder of Crows
Abilities – Talents – Level 90
Barrage
Glaive Toss
Powershot
Active Buffs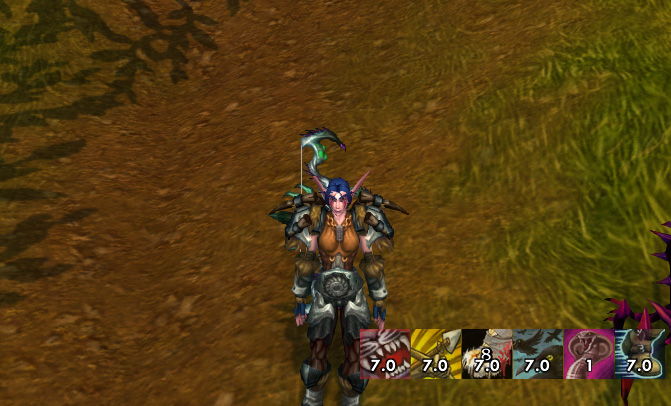 At Github.

These are tracking auras for procs that give you buffs or timers for abilities that you activate.
They are shifted to the right because they pair up with WeakAuras 2: Exports for All Classes and Engineers.
Steady Focus (Talent)
Bombardment (Marksman)
Rapid Fire (Marksman)
Sniper Training (Marksman)
Sniper Training: Recently Moved (Marksman)
Survivalist (Survival)
Bestial Wrath (Beast Mastery)
Focus Fire (Beast Mastery)
Mend Pet
Beast Cleave (Beast Mastery)
Stampede (Talent)
A Murder of Crows (Talent)
Cobra Strikes (Beast Mastery)
Posthaste (Talent)
Focus Use
Arcane Shot (Beast Mastery/Survival)
Aimed Shot (Marksman)
Focusing Shot (Talent)
Cobra Shot (Beast Mastery/Survival)
Steady Shot (Marksman)
Focus bar
Thrill of the Hunt (Talent)
Dire Beast (Talent)
Warnings
Pet Dead (Uses the Wilhelm Scream audio effect. If you want to disable it, go to the "Actions" tab and uncheck "Play Sound".) – This is disabled if you have the Lone Wolf talent
No Pet – This is disabled if you have the Lone Wolf talent
Exotic Munitions not up (Talent)
Counter Shot usable to interrupt and the target is casting an interruptable spell
Other WeakAuras