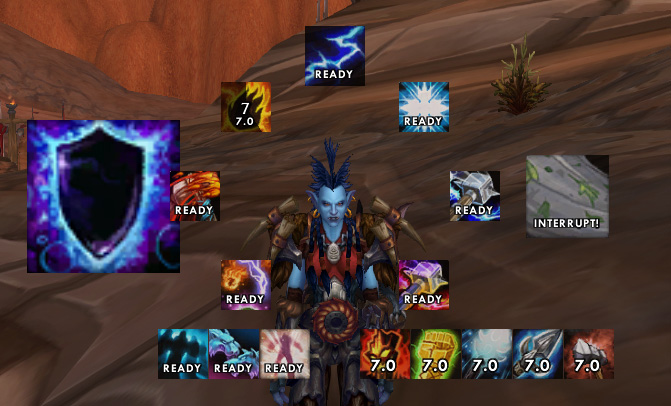 Here are auras for Shamans for patch 6.0 and Warlords of Draenor.
There are three sets of abilities, one for each spec.
Each of the other sets includes auras for Elemental, Enhancement, Restoration and most talents including level 100.
They will only load on shamans and in the appropriate specs.
They are all disabled while in vehicles.
I do not actively play a Shaman, but used the guides from Noxxic and Icy Veins for informing my choices. Feedback is welcome.
Extra media used through SharedMedia:

Font: Tw Cent MT Bold (Added via MyMedia, Read "INSTRUCTIONS for MyMedia.txt")
Bar texture: BantoBar
How To
Video
Elemental Abilities
Earth Shock – Only displays when you have 15 stacks on Lightning Shield.
Lava Burst
Lava Surge – Shares location with Lava Burst but has pulse animation.
Flame Shock DoT
Unleashed Flame – Only displays if you have the Unleashed Fury talent.
Elemental Blast (Talent)
Enhancement Abilities
Frost Shock
Lightning Bolt – Only displays when you have 5 stacks of Maelstrom Weapon.
Flame Shock DoT
Stormstrike
Lava Lash
Unleash Elements
Elemental Blast (Talent)
Restoration Abilities
Tidal Waves
Riptide
Unleash Life
Elemental Blast (Talent)
Cooldowns
Healing Stream Totem (Restoration)
Cloudburst Totem (Restoration-Talent)
Healing Tide Totem (Restoration)
Spirit Link Totem (Restoration)
Storm Elemental Totem (Talent)
Fire Totem Falling Off/Not Up
Fire Elemental Totem
Feral Spirit (Enhancement)
Ascendance
Ancestral Swiftness (Talent)
Elemental Mastery (Talent)
Call of the Elements (Talent)
Active Buffs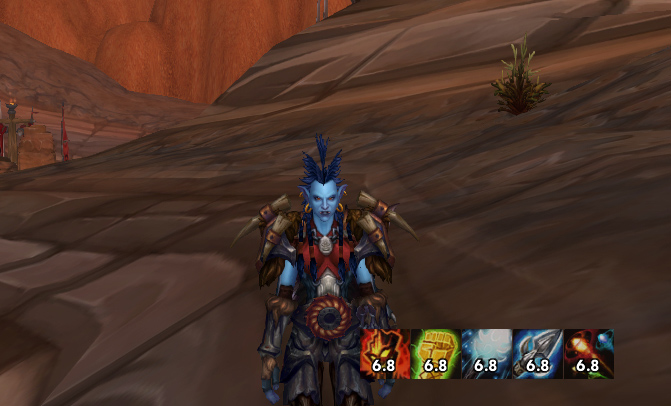 At Github.

These are tracking auras for procs that give you buffs or timers for abilities that you activate.
Note: Heroism/Bloodlust/Time Warp/Ancient Hysteria/Netherwinds/Drums are not included because there is an aura for them in WeakAuras 2: Exports for All Classes and Engineers for patch 6.0.
Lightning Shield Stacks (Elemental)
Maelstrom Weapon Stacks (Enhancement)
Fire Totem Active
Earth Totem Active
Air Totem Active
Water Totem Active
Flame Shock on target
Feral Spirit no glyph (Enhancement)
Feral Spirit with Glyph of Ephemeral Spirits (Enhancement)
Ascendance
Unleash Flame (Elemental/Enhancement)
Unleash Life (Restoration)
Spiritwalker's Grace (Elemental/Restoration)
Spirit Walk (Enhancement)
Elemental Blast (Talent)
Elemental Fusion (Talent)
Elemental Mastery (Talent)
Ancestral Swiftness (Talent)
Echo of the Elements (Talent)
Liquid Magma (Talent)
Ancestral Guidance (Talent)
Nature's Guardian (Talent)
Astral Shift (Talent)
Shamanistic Rage
Warnings
Lightning Shield missing (Elemental/Enhancement)
Water Shield missing (Restoration)
Wind Shear usable to interrupt and the target is casting an interruptable spell
Other WeakAuras