Percentage Mana Text
Shows remaining mana as a percentage.
Open the Display tab.
In the Text area type "%c".
In the new box paste the following:
function()
local p = (UnitPower("player", 0)/UnitPowerMax("player", 0))*100
return format("%.0f%%", p)
end

Action Usable
Useful for:
Informing you when an ability is ready for use.
Informing you when you can interrupt a spell your target is casting (See the Interrupt examples).
Example style: Icon, Texture and Model also work well for this aura type.

Choose the type of aura you want to create by clicking the corresponding area in the New area of WeakAuras.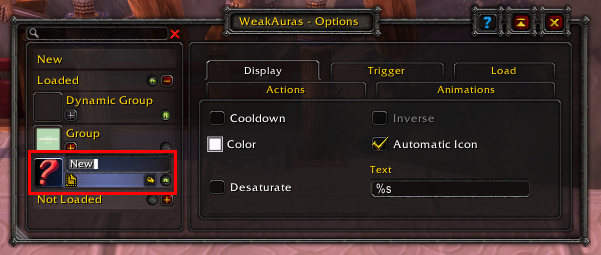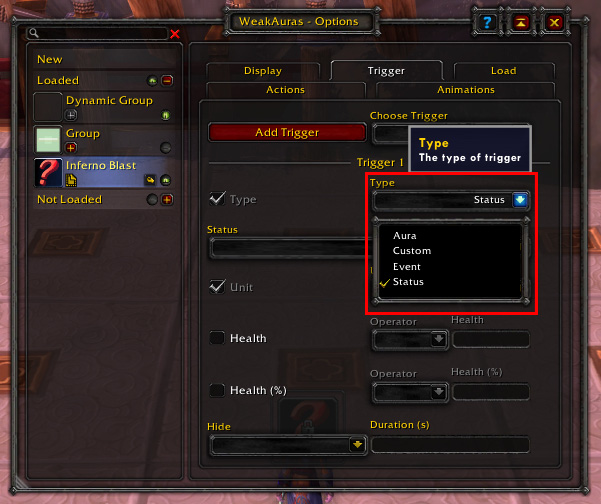 Change the Trigger Type to "Status".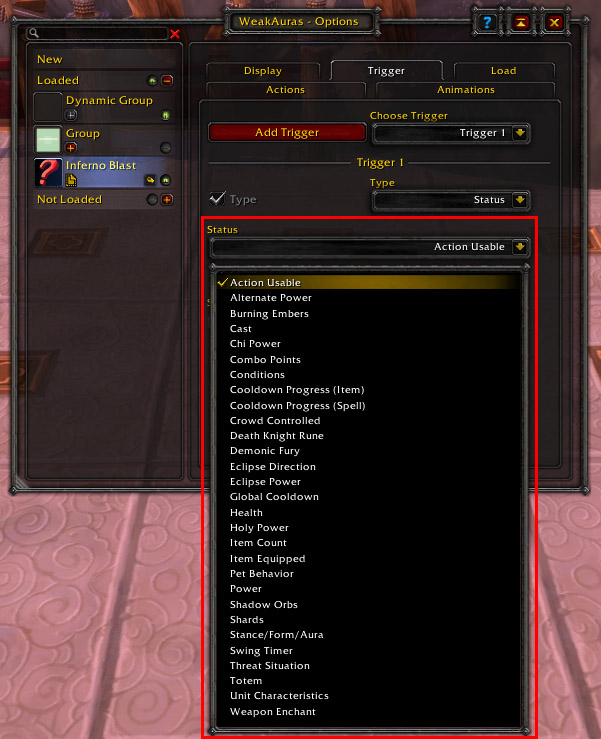 Change the Trigger Status to "Action Usable".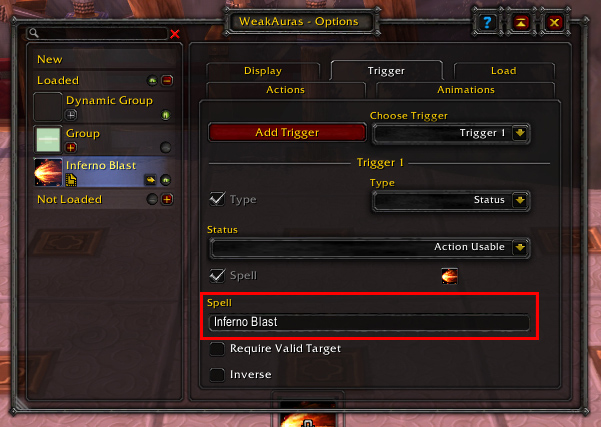 Change the Trigger Spell to "Inferno Blast".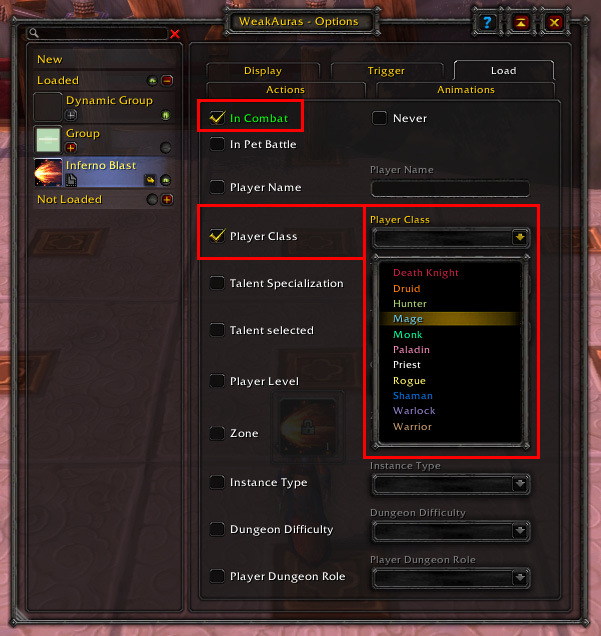 In the Load tab check: "In Combat" and "Player Class".
Change the dropdown for Player Class to "Mage".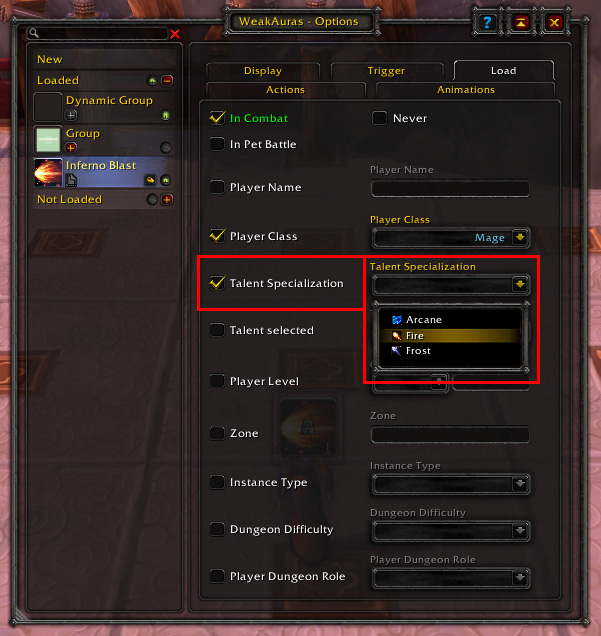 Check "Talent Specialization" and open the dropdown and choose "Fire".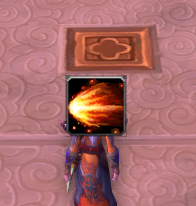 Edit the Display tab to customize the location and style of the aura.
Cooldown Progress – Item / Spell
Example style: Progress Texture
Trigger > Status > Cooldown Progress (Item) or Cooldown Progress (Spell)
Spell > Inferno Blast
Load > Player Class > Mage & Talent Specialization
Display > Customize location and style
Interrupt
With a Class Spell
Example style: Text
Trigger 1 > Status > Action Usable
Spell > Counter Shot
Trigger 2 > Status > Cast
Unit > Target
Interruptible checked
All Triggers Required For Activation
Load > Player Class > Hunter
Display > Customize location and style (INTERRUPT!)
All Classes
Example style: Text
Trigger 1 > Status > Cast
Unit > Target
Interruptible checked
Load > Empty
Display > Customize location and style (INTERRUPT!)
Damage Over Time
Example style: Progress Bar
Trigger > Aura
Aura Name > Living Bomb
Unit > Target
Aura Type > Debuff
Check > Remaining Time > <= 3
Check > Own Only
Load > Player Class > Mage & Talent Specialization
Display > Customize location and style
Trinket Proc
Example style: Icon
Trigger > Aura
Aura Name > (Find name of Aura) Ticking Ebon Detonator = Restless Agility
Unit > Player
Aura Type > Buff
Load > None
Display > Customize location and style
Stance / Mage Armor / Aspect / Aura / Buffs
Example style: Icon
Trigger > Aura
Aura Name > Aspect of the Iron Hawk
Unit > Player
Aura Type > Buff
Load > Player Class > Hunter & Talent Selected
Display > Customize location and style
Official Examples